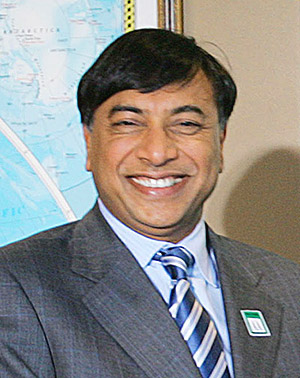 In job, being humble is an investment...


Born in a Rajasthan Agrawal family, Lakshmi spent his initial years in India, living with his extended family on bare floors and rope beds in a house built by his grandfather. His family was from humble roots;

his grandfather worked for the Tarachand Ghanshyamdas Poddar firm

, one of the leading industrial firms of pre-independence India. His father started a steel Mill in Hardoi, Uttar Pradesh, and nearly 80% of the Mill's production used to be sold through the firm owned by Lala Gulab Chand. They eventually moved to Calcutta where his father, Mohan, became a partner in a steel company and made a fortune.
He graduated from St. Xavier's College in Calcutta (now known as Kolkata) with a Bachelor of Commerce degree in Business and Accounting in 1969.
Lakshmi Mittal began his career working in the family's steelmaking business in India, and in 1976, when the family founded its own steel business, Mittal set out to establish its international division, beginning with the buying of a run-down plant in Indonesia. Shortly afterwards he married Usha, the daughter of a well-to-do moneylender. In 1994, due to differences with his father and brothers, he branched out on his own, taking over the international operations of the Mittal steel business, which was already owned by the family. Mittal's family never spoke publicly about the reasons for the split.
Lakshmi Mittal
2 Comments:
Fixed Index Annuity said...

August 3, 2009 at 11:55 PM

 

I think Lakshmi Mittal is really very ideal person and he is very hardworking and responsible man.his personelity is so good looking and attrective.

santhosh said...

January 4, 2010 at 6:37 AM

 

I am really big fan of him for his moves in business like acquisition of arcelor and becoming the largest producer of steel in the world.